Slip on a shirt, slop on the sun cream, slap on a hat and sip on a beer.
We get some great weather in Queenstown and it's important to enjoy the great outdoors now and then with a beer in hand. So here's our rough guide to the best places to soak up the sun with great company and refreshing beverages this weekend. 
Bathhouse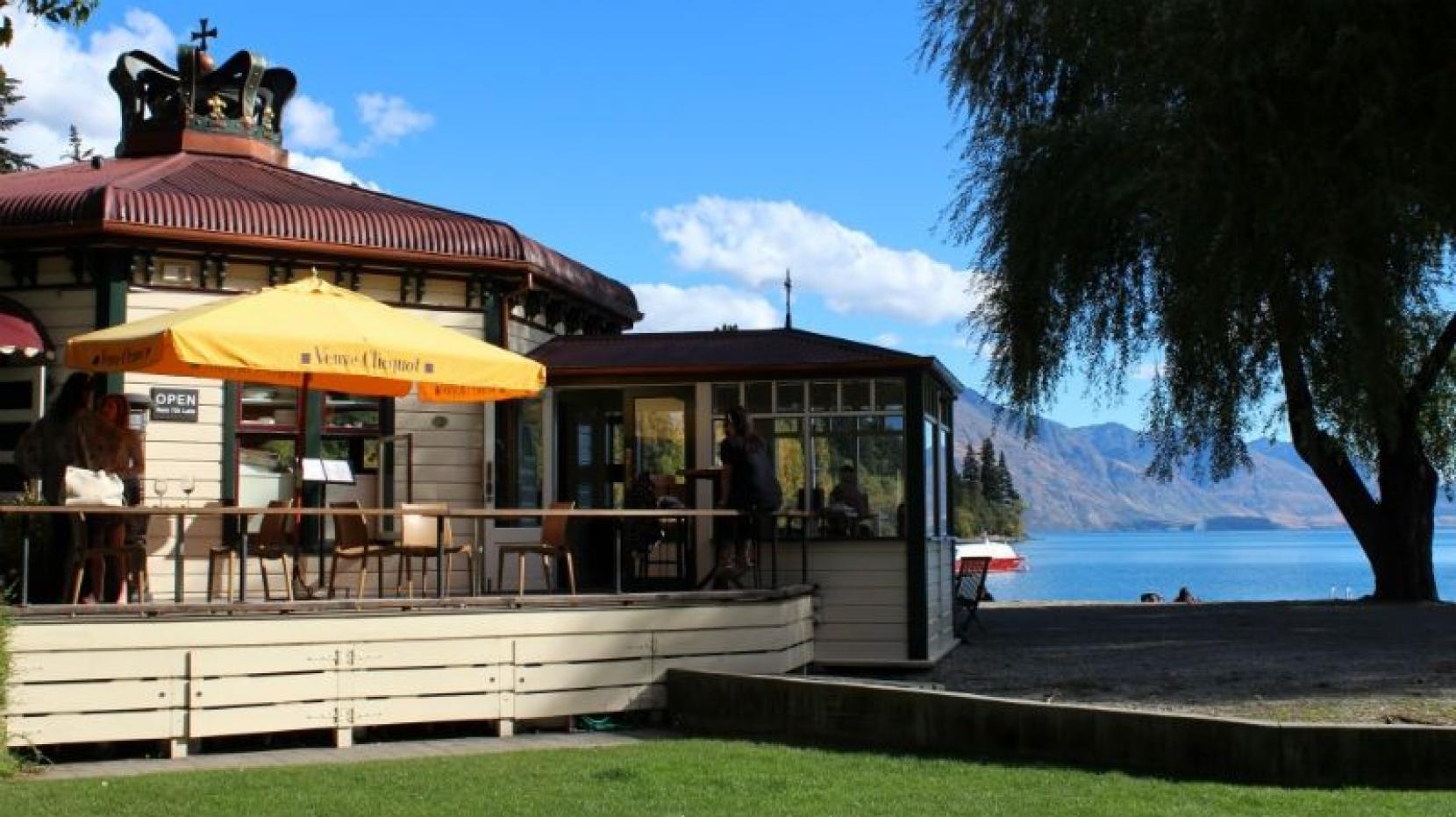 Irresistible place to have tapas and boozes.
This distinctive former bath house was built in 1911 to commemorate the coronation of King George V. Sitting right on the lakefront with its regal crown-like architecture and historic charm, it's hard to miss.
The café bar serves tapas, dinner and snacks. Grab a chair on the beach and sip on an Erdinger or local wine as you feel the sand between your toes and the sun on your back.
Where: Lakefront, Queenstown Bay
Opening hours: 9am until late
1876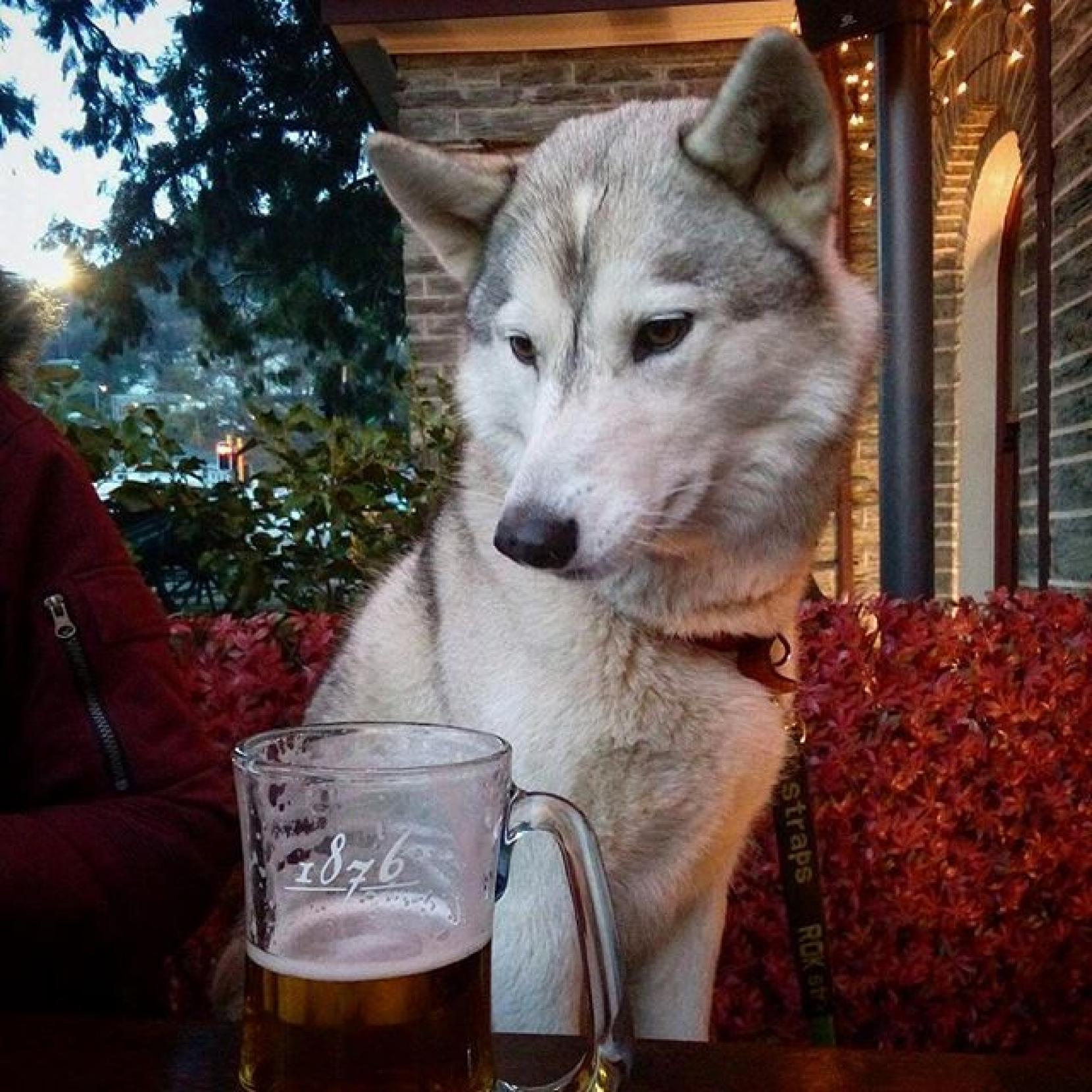 Your best friend is welcome at 1876, but they will not serve intoxicated dogs. Image: @jamie_slade (via IG).
1876's beer garden overlooks Ballarat Street and is a prime spot for people watching. You'll find throngs of locals here encouraging passing friends and visitors to join them. Even when the sun starts to sink, everyone stays for the drinks specials and great quality food with a reasonable price tag.
Plenty of seating and outdoor heaters make this a great place to camp out all afternoon and evening.
Where: Ballarat Street
Opening hours: Noon – 4am
Perky's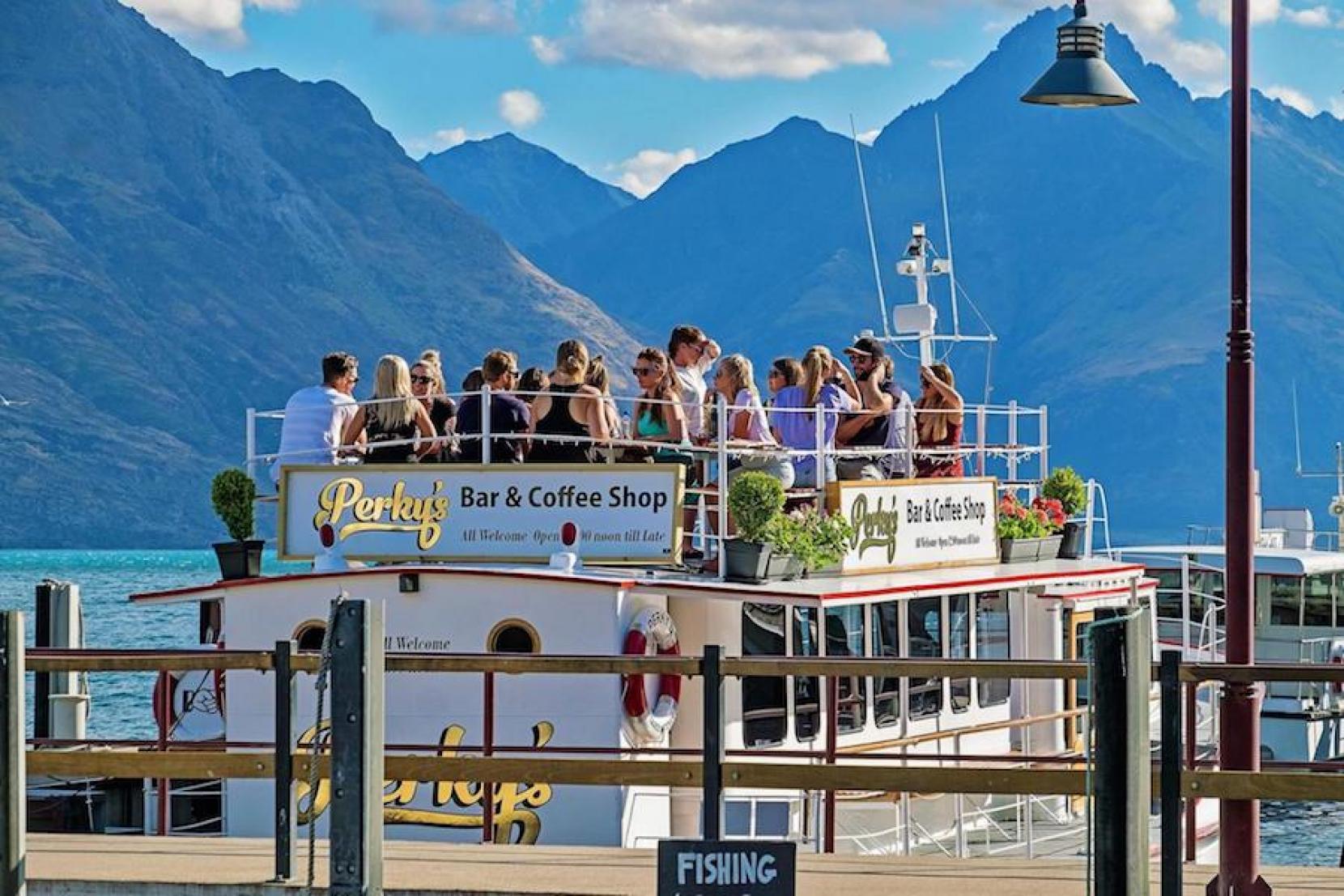 Best view you can get while sipping a drink in Queenstown.
Never mind all those super speedy jet boats, we want a gently rocking boat with a bar!
Perky's Floating Bar is permanently moored in Queenstown Bay and offers a range of tea and coffee, wine, beer and other alcoholic and non-alcoholic delights. You can bring your own takeaway food to munch on board too.
Hang around long enough and you'll be rewarded with one of Queenstown's stunning sunsets. It can get a little chilly floating on the lake, but Perky's has that sorted with plenty of blankets and lamp heaters.
Where: Queenstown Bay
Opening Hours: Noon – midnight
Sundeck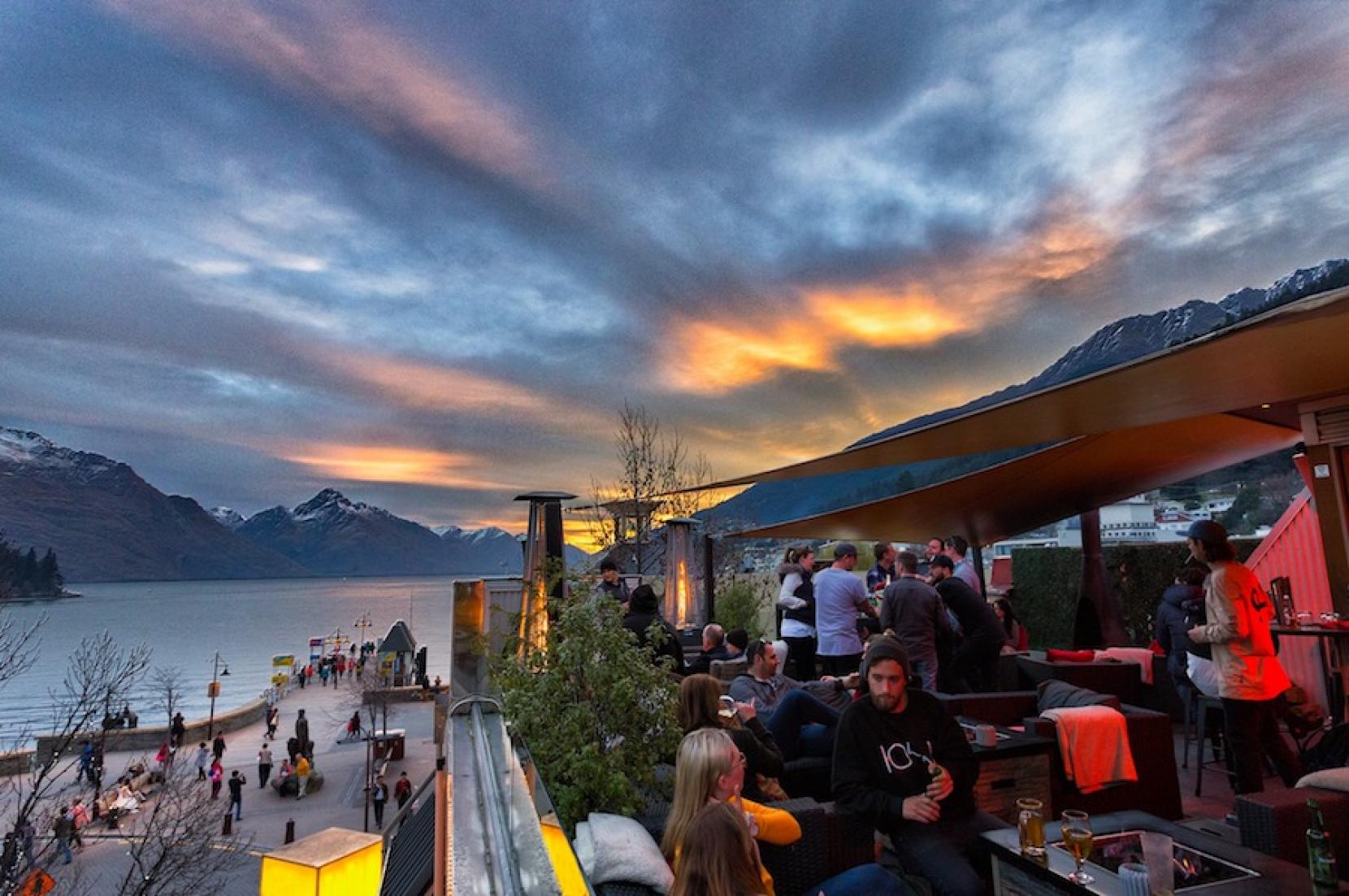 Sunsets at Sundeck: you definitely need a drink to relax and enjoy it.
Queenstown's first full service rooftop bar and lounge soaks up the sunshine all day long.
This snazzy bar serves luxurious cocktails, lashings of champagne and delicious cheese and charcuterie boards.
Relax under the big sun umbrellas and take advantage of the supplied sun cream – you'll need it. There's a toasty chimenea for when it gets chilly and regular DJs to soothe the soul.
Where: Top Floor, 2 The Mall, Queenstown
Opening hours: 2pm – 10pm
Atlas Beer Café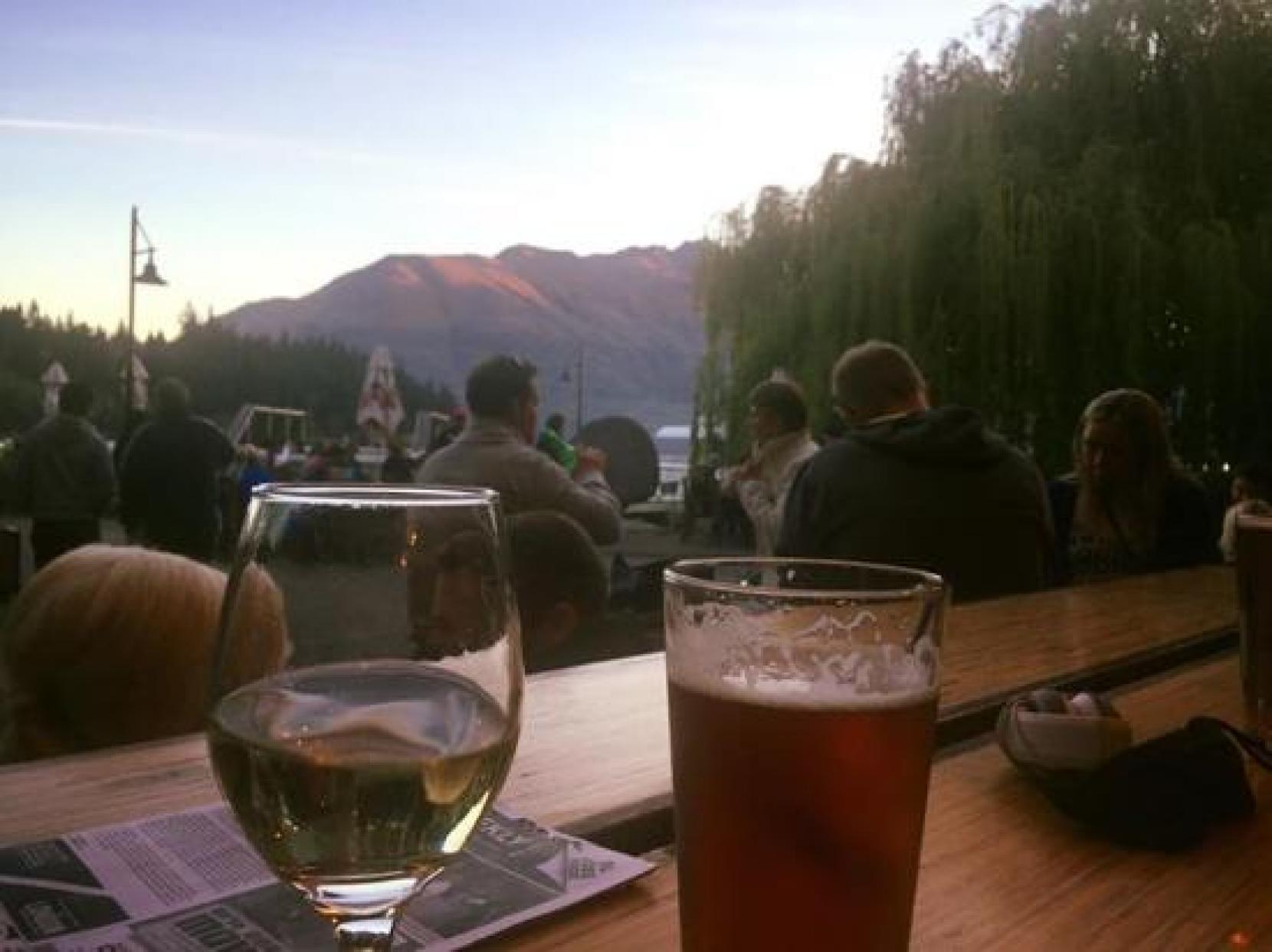 Beers and one of the best steaks in Queenstown.
This tiny beer café with a big heart is a favourite with Queenstown's mountain biking community. With plenty of places to park a bike and a great range of craft beers, there's no wondering why.
This small space has more seating outside, overlooking the lake, than inside the quirky bar. Ask the bar staff for a locally brewed beer and take your seat in the sunshine.
Psst… rumour has it their steak dish is one of the best in New Zealand!
Where: Steamer Wharf, Queenstown
Opening hours: 10am - midnight