Picture this: a beautiful sunny December day by the pristine waters of the Kawarau River, and Experience Queenstown team has been invited to jump in (literally) and go river surfing with Serious Fun River Boarding!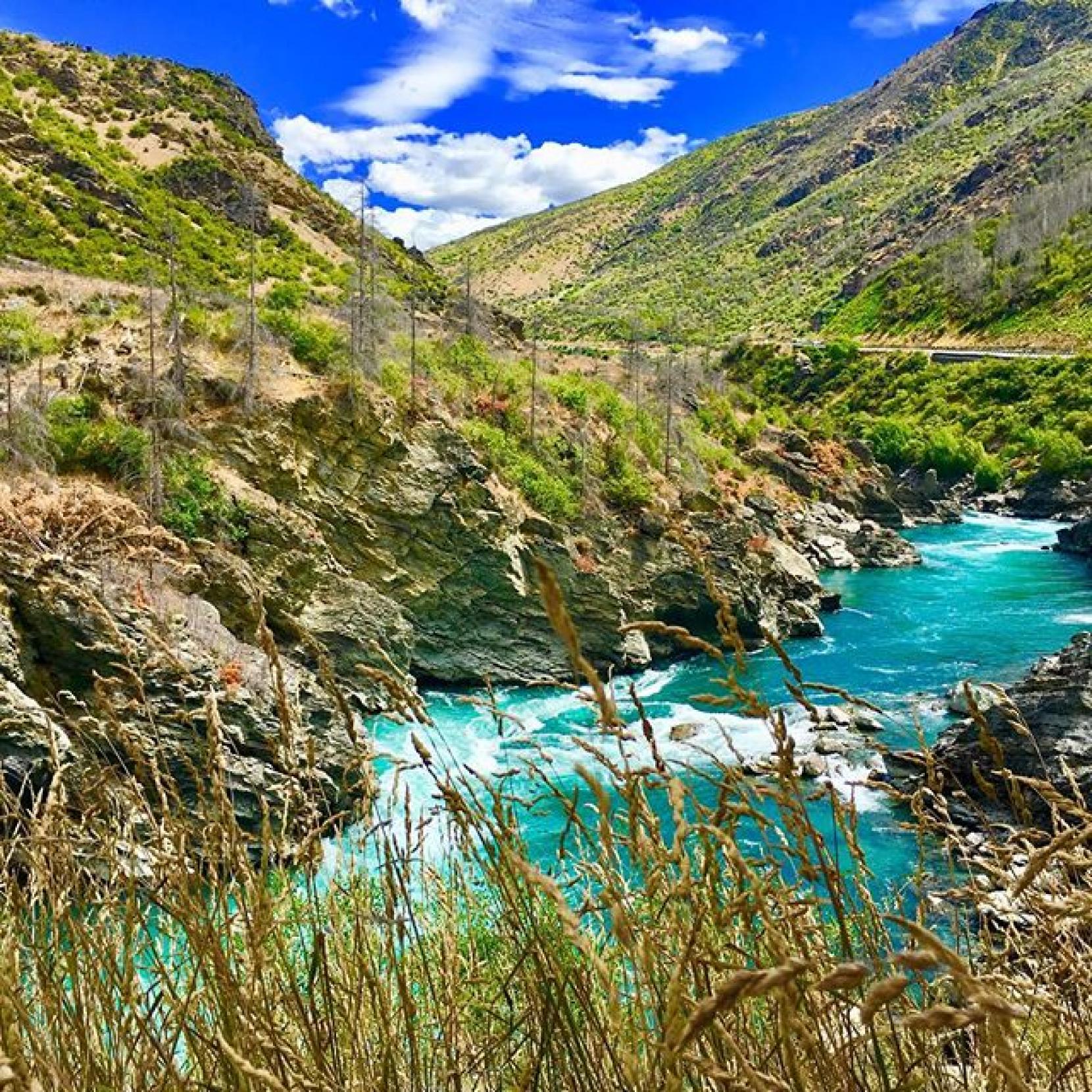 The beautiful Kawarau Gorge
Naturally, being in Queenstown, river surfing is an adventurous activity and not for the faint hearted. As an adrenaline seeker, I was super excited, but I was still concerned about jumping into the cold river. It's no secret that the water in Queenstown can stay cold even over the summer months. However, my fear soon disappeared when I saw all the safety clothing and equipment, including a  5mm wetsuit, booties, fins, life jacket, helmet and bodyboard (all top of the line and super warm).
It was clear during the safety briefing that there were plenty of hazards ahead, but the team was so professional and chilled out that I instantly relaxed, and even started thinking it couldn't be that hard, all I had to do was follow the instructions and go with the flow, right?
I soon found out it wasn't as easy as it looked! We finally got to the river, where we practiced some movements before going to the rapids. It was finally time to start having fun! Yaaaayyy! I was so excited, and repeated my mantra: "go with the flow". However, right on my first rapid I lost control of the bodyboard and was going straight to the rocks, but I remembered the instructions: no matter what happened, always try to hold to the bodyboard and keep calm. I didn't even have time to freak out, as  Pavel, one of the instructors, was instantly by my side to help guide me  back to the river course!
As we emerged from the rapids, I was laughing, excited and a little embarrassed to have been so clumsy. Pavel asked me if everything was okay, and at that point I thought they were going to tell me I  couldn't go on because I'd done it wrong on the first try. Instead he laughed with me and said, "Well, you have just made a perfect demonstration of what you should not do! Now let's focus on what you should do and continue to have fun!"The guide's attitude made me feel super comfortable and I was able to relax and enjoy the River Surfing. I felt completely safe all the time, due to the professionalism and high level of the team, which was simply amazing.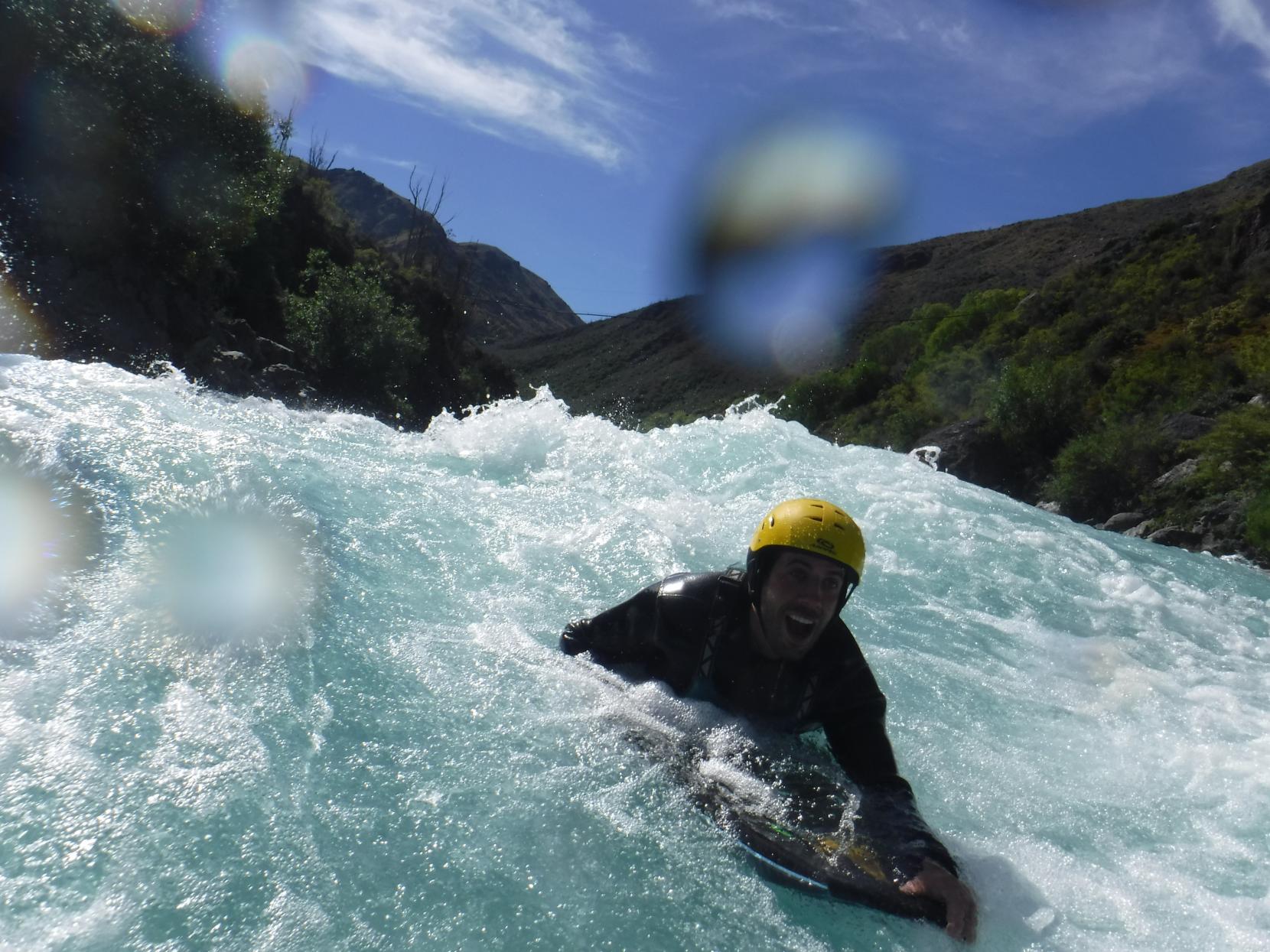 Excitement face after emerging from the first rapids!
The day kept getting better, as after a series of rapids, we were asked if we wanted to  do some cliff jumping! At 5 metres high, it certainly looked a long way down from the top, but with a count-down and some helpful cheers, I jumped into the river - it was incredible!   Definitely not to be missed.
After climbing out of the river, sad it was already over, we suddenly realised the driver was waiting to take us back to the start point for another go. "Ready for round two?" He grinned, opening the door. You bet!!
Negative points:
Only two things:
1)      Twice is not enough! We want more!
2)      Impossible to look good in the photos! If someone knows the secret of how to look good in a photo when you are screaming, with one eye open and the other closed, please share with us. Definitely not the type of the photos you will use as your facebook profile photo, but you will seriously laugh heaps with them.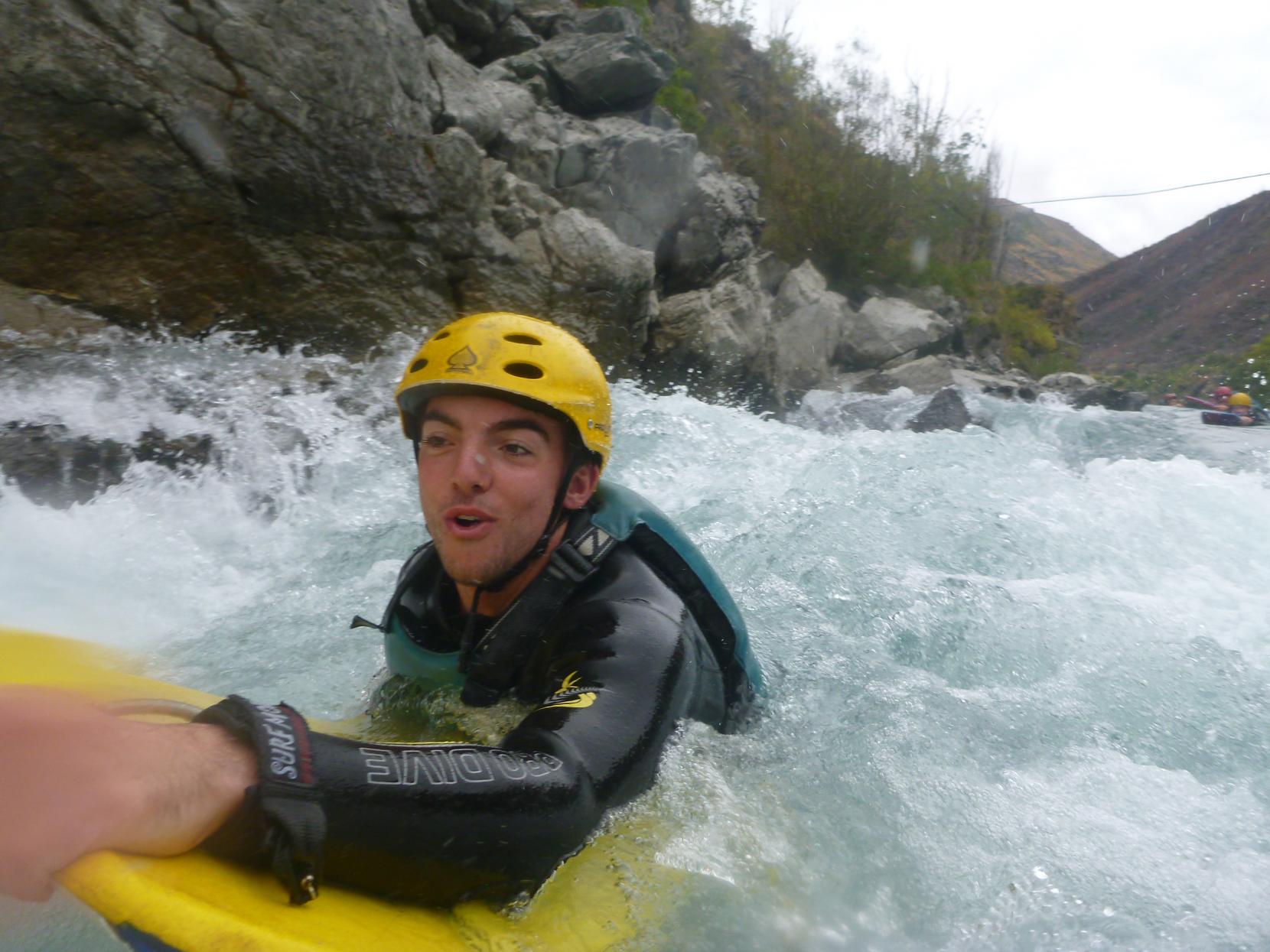 Definitely not a photo for your facebook profile...
Would I do it again?
Oh yeah! As I said, twice was not even enough! I feel like doing it at least every week!
Final word:
I cannot think of a more perfect name for a company. Our experience with Serious Fun River Boarding was seriously fun!