To do a room check is such a pleasant job and even more delightful when it is at The Hilton Queenstown Resort & Spa!
Location: The hotel is situated in the heart of the Kawarau Village, on the beautiful shores of Lake Wakatipu.
Getting there: Just a 5 minute drive from the airport and 20 minutes from Queenstown, the hotel offers free shuttle service into the town centre. Or you can enjoy a speedy water taxi over Lake Wakatipu into town, it takes just 15 minutes and is a great experience!
Check-in experience: The hotel has a breathtaking lobby with friendly front desk staff, who immediately checked that I had previously stayed there and added a touch of familiarity that made me feel like a VIP guest.
Another plus of the check-in was using their App and the digital key for the first time! Really modern and handy!!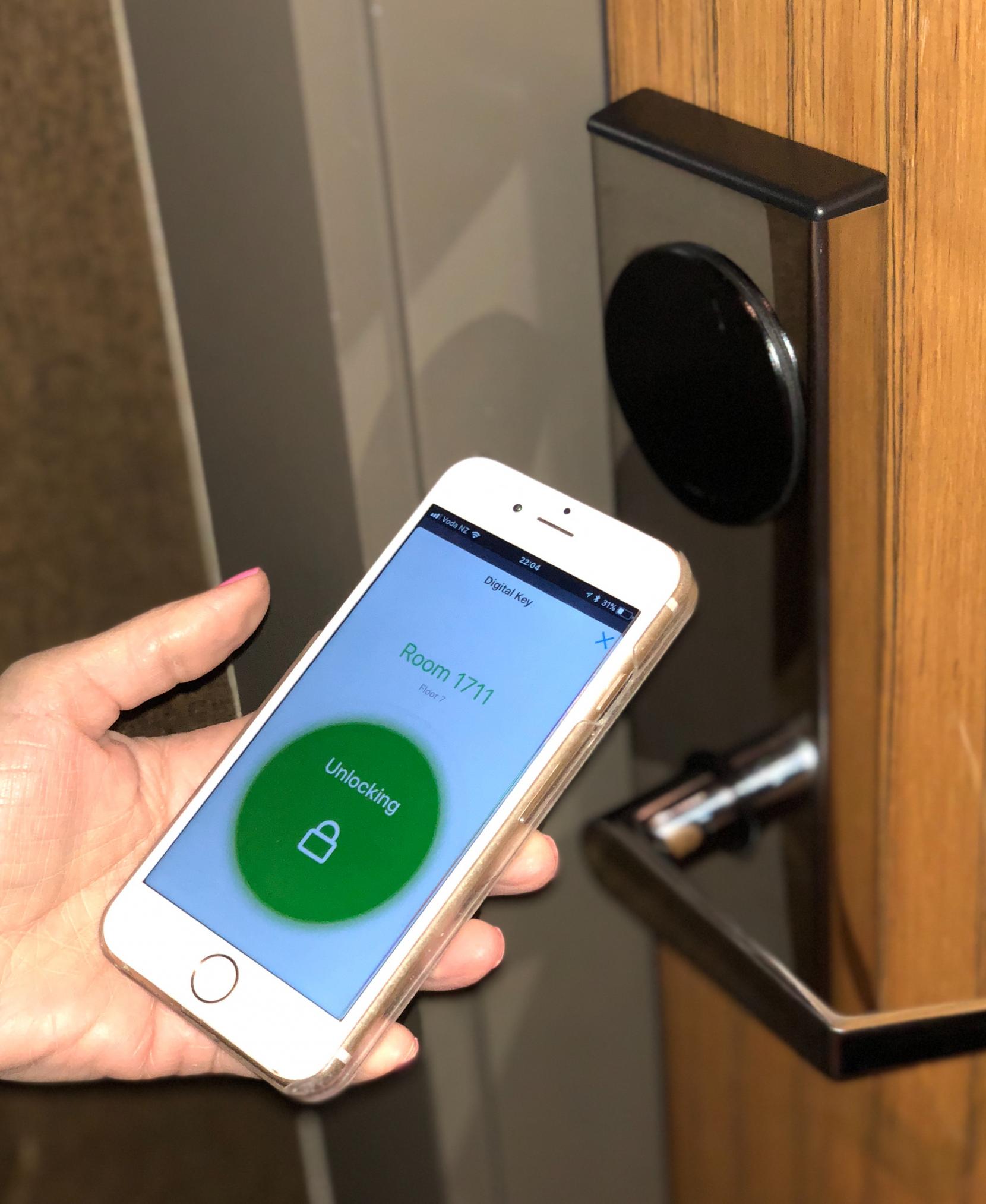 Tech and luxury: the Hilton Honors mobile App
 Room: The room was spacious and elegantly designed, with a workstation and separate sofa area, fireplace and a balcony. The kind of room that makes you feel like you could live there!
The bed: I had to be dragged from it. Huge and incredibly comfy - be prepared to have withdrawal symptoms from such luxury.
Bathroom: The type of bathroom that would save many relationships: two separate sinks, so  you can do your makeup and hair while he shaves, and no one needs to fight for space! There is also a bath and separate shower.
Noise: Couldn't hear a peep.  
A room with a view? We stayed in a Deluxe Lakeview room and weren't disappointed. Our room offered a jaw-dropping panoramic of the lake and mountains, also known as the Queenstown Million Dollar view!
Food and drink: I was relieved that they had great exercise facilities, because our gastronomic experience was simply sinful!
Our first stop was at the Mee Mee restaurant, where we ate dumplings as a starter. Then we headed to Wakatipu Grill for dinner.
Wakatipu Grill offers a special menu called "Ingredient of the Month": every month they have a different main ingredient that chefs use to create delicious and original dishes (this month's ingredient was honey). As we had already eaten dumplings as an entrée, we just tried the main and dessert.
The main was soy and honey glaze free range chicken breast with coxinha (a Brazilian dish), charred corn, baby leeks and honey mustard vinaigrette. The dessert was honey and mixed nut baklava with pistachio crème fraiche and seasonal berries. How was it? I have only one word: YUMMY!! Actually, make it two words: ABSOLUTELY YUMMY!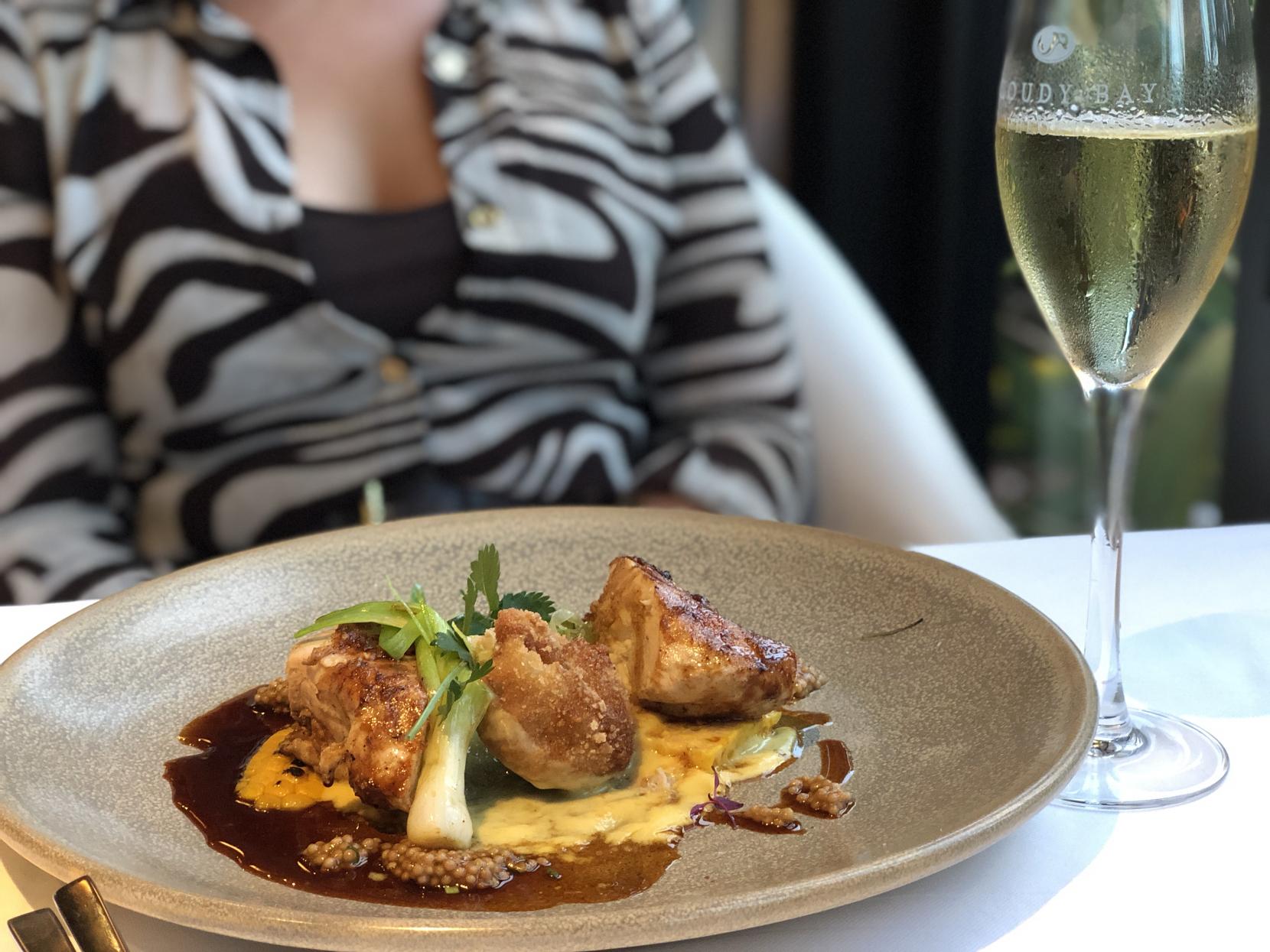 Free range chicken with veggies and honey mustard vinaigrette: healthy and delicious.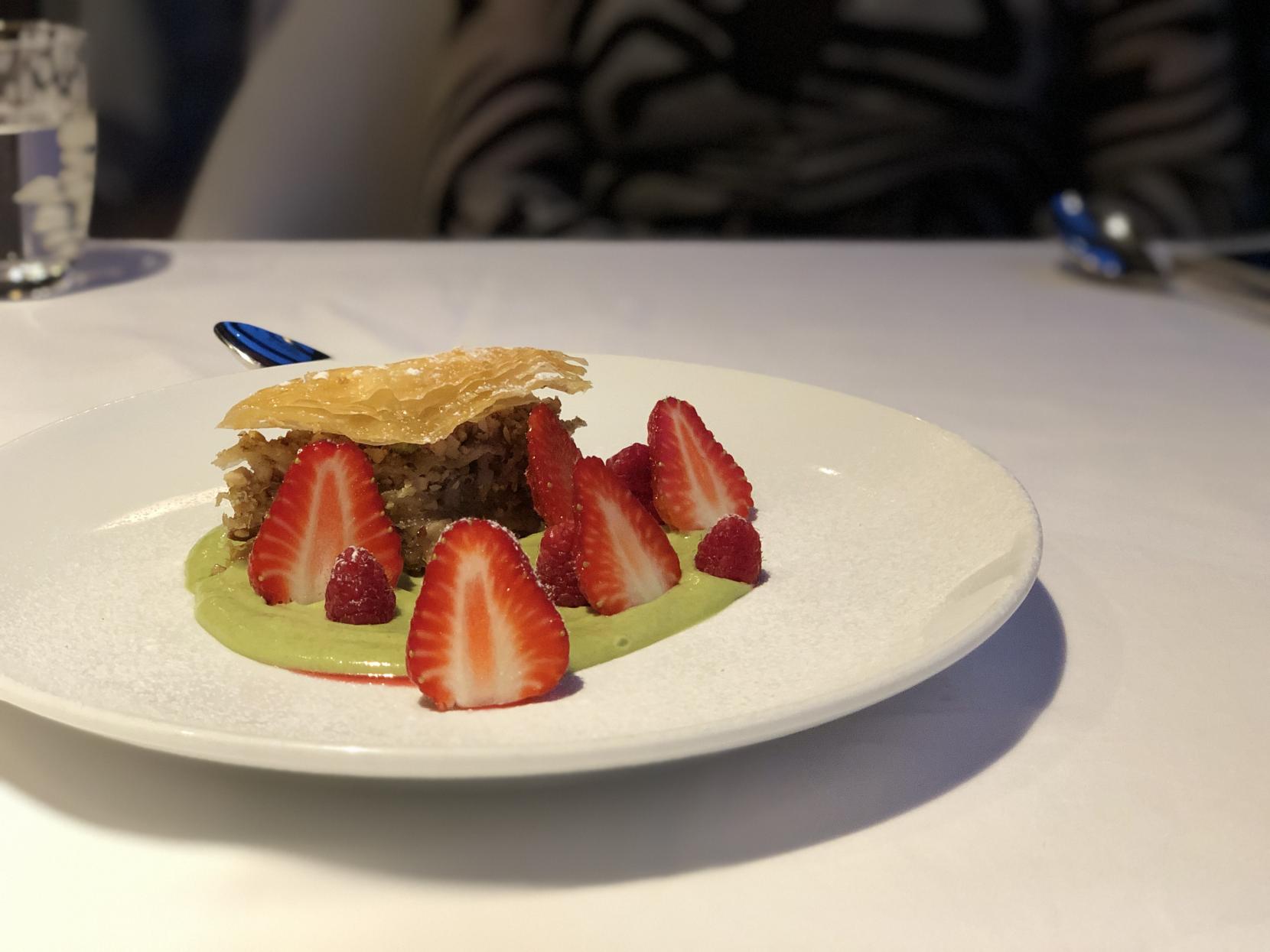 Who can resist to this perfect combination between honey, strawberries and pistachio crème fraiche?
Finally, for a perfect end of the evening we had an espresso martini at the cozy and glamorous Cru Wine Bar & Lounge.
We couldn't leave without having the full gastronomic experience, so on the next day, after check-out, we had lunch at Stacks Pub, which was just perfect, since it was a Sunday and that is when they offer half-price pizzas! There's nothing quite like sitting on a sunny deck, digging into tasty pizzas with a beer in hand.
Exercise facilities: They have a modern gym and a fantastic heated indoor pool. After a workout, you can relax in the hot tub or in the sauna or steam room.
What's so good about this place? It is hard to say what is not good about this place! Absolutely gorgeous views, comfortable hotel, great food and drinks, excellent amenities!
And the bad: Although the Hilton App allows you to check in online and use a digital key, you still need to go to the front desk and present a photo ID the moment you arrive at the hotel.
Value for money: This is affordable luxury! Worth every penny!
Perfect for: Couples, families and groups on holiday who want to recharge the batteries. And for locals, it is perfect to have a wee holiday or a romantic getaway without having to leave Queenstown!
Final word: As I said before, I could live there!
Would I Return? Again, again and again!!! I still need to try their spa next time...