About Queenstown
Situated in the heart of the South Island, on the shores of Lake Wakatipu and surrounded by the beautiful Remarkables mountain range.
The town has been regularly rated as one of the world's top tourism destinations, seeing 1.2 million visitors a year.
Queenstown is the Southern Hemisphere's premier four-season alpine and lake resort.
Queenstown was named because '...it was fit for Queen Victoria.' Certainly it's lived up to that expectation. Today it's an exhilarating alpine resort, perfect for both adventurers and leisure seekers. 
Queenstown History
William Gilbert Rees was Queenstown's first European settler and the community's founding father. He established the first farm in the Queenstown area in 1860, and played a key role in the gold rush that followed soon after.
Before settlement, Queenstown frequently saw visiting Maori on their quest for greenstone. 
Soon after settlement, Thomas Arthur and Harry Redfern discovered gold in the Shotover River bringing many men and women to the Queenstown site that saw the second largest haul of gold in history as well as the government's purchase of the town.
The year 1900 not only farewelled the gold, but also thousands of settlers, leaving a population of only 200, however, as statistics show today, the current population in Queenstown is 8538.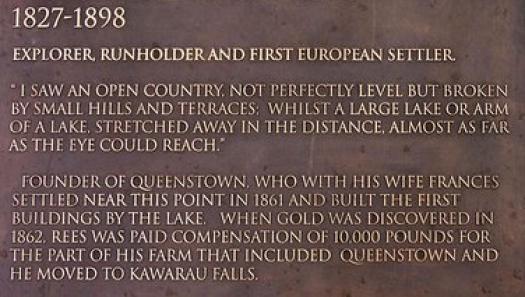 History: William Gilbert ReesLake Wakatipu in 1860. Along with fellow explorer Nicholas von Tunzelmann, Rees was in search of quality...