If Glenorchy conjures up images of a sleepy backwater at the end of the road, it's time to think again.
Despite the tiny population (just 500 people call Glenorchy home), this little town at the head of the lake packs quite a punch.
In its tranquil setting on the shores of Lake Wakatipu, Glenorchy feels a million miles from the bustle of Queenstown's cafes, bars and boutique shops. Glenorchy is a stone's throw from the mouth of the Dart River and is the gateway to Mt Aspiring National Park. It is also an absolute delight.
Got 24 hours to spare? Get yourself to Glenorchy for a taste of the real New Zealand.
Day 1
9am: Drive the Glenorchy Road
There are drives, and then there are drives. The Queenstown to Glenorchy drive is often featured amongst the world's most scenic drives and is a journey that won't disappoint (unless you forget your camera).
The drive should take around 45 minutes by car but our recommendation is to forget about timeframes and stop as often as you can to soak in the views. Some of the best jaw-droppers are Bob's Cove (think picture-perfect inlet of water surrounded by dense beech forest) and Bennett's Bluff. You'll know you've hit Bennett's Bluff by the number of cars that have haphazardly parked beside the road as they desperately try to find their cameras). Easily one of the most photographed views in New Zealand, the view from Bennett's Bluff encapsulates all that is raw, stunning and utterly beautiful about the South Island.
10:30am: Glenorchy Café & Bar
Time for a caffeine hit. Head to the Glenorchy Café and Bar, most commonly known as the GYC, at the end of Mull Street. The café does some of the biggest and best sandwiches you'll find this side of the Southern Alps.
12pm: Walk off lunch
After a sandwich of epic proportions, it's time to get some exercise. Glenorchy is the stepping off point for some of the South Island's big walks like the Routeburn Track and the Greenstone-Caples track. You'll need to book ahead and plan ahead if you're undertaking such an endeavour and you sure won't be back in 24 hours. An easier option is the Glenorchy Walkway track, starting from the northern end of Glenorchy. This short walk over a beautiful wetland offers the chance to see plenty of bird life and is great for kids.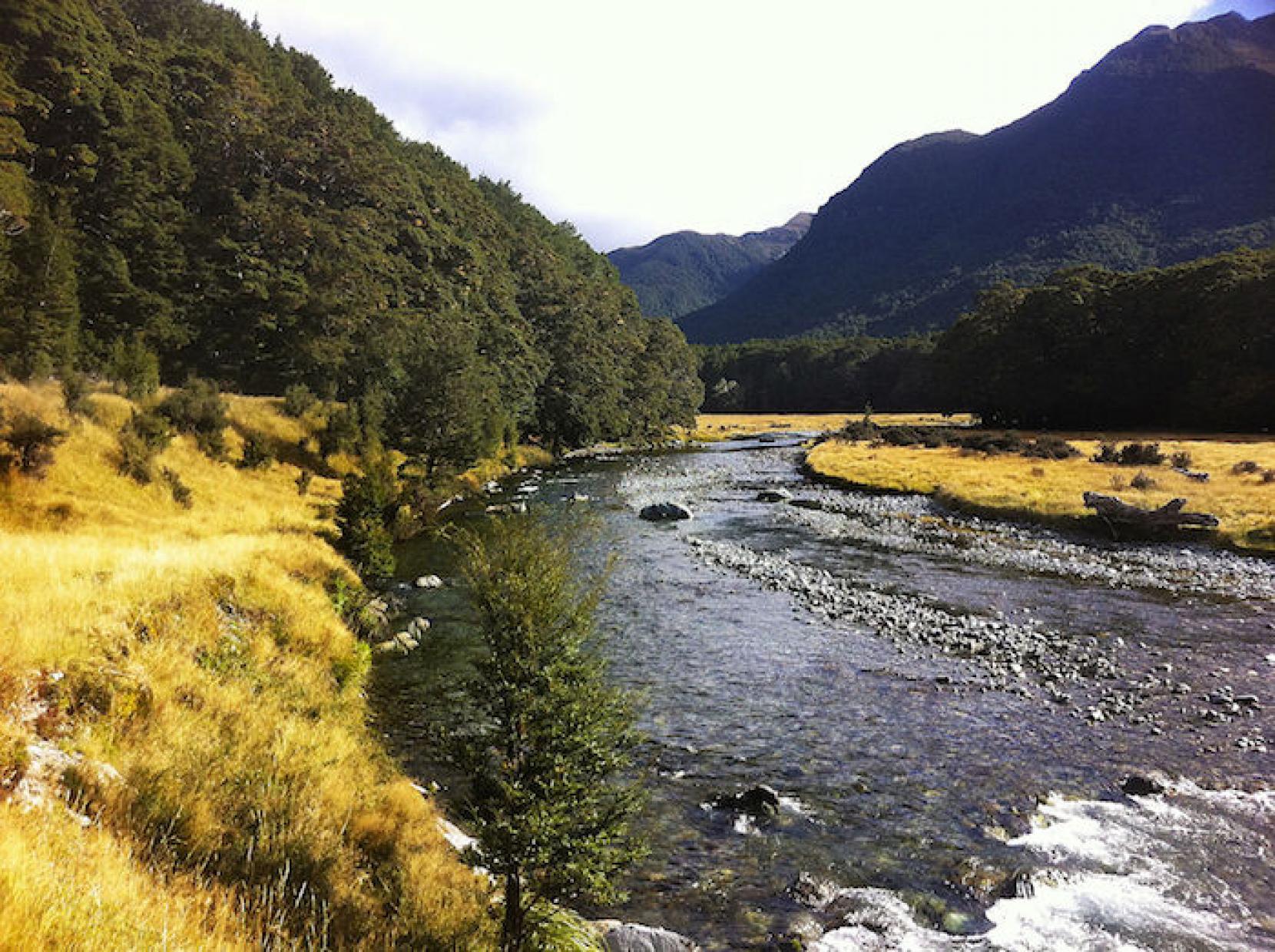 2pm: Glenorchy by helicopter
By far the most striking aspect of Glenorchy is its location. Alongside Mt Aspiring National Park, the township is surrounded by the striking snow-capped peaks of the Southern Alps. The best way to take in the grandeur of this scenery is by helicopter. Heli Glenorchy offers trips high above Glenorchy as well as Milford Sound, Fiordland, Queenstown and charter flights for fishing and hunting. Go on, treat yourself.
Movie sightseeing
Unless you've spent the last decade under a rock, you'll know that New Zealand became kinda famous for those Lord of The Rings movies. Visit Glenorchy, and you'll immediately see why the moviemakers fell in love with the area. Glenorchy and surrounding areas like Paradise have featured as the backdrop to not only the Lord of The Rings and Hobbit trilogies but also X-Men Origins: Wolverine, The Chronicles of Narnia and many more. Ask your helicopter pilot to point out the sights, or take a drive to Paradise.
5pm: The Glenorchy Hotel
For a taste of true southern kiwi hospitality, book yourself in for a night at The Glenorchy Hotel. Between the décor and the locals at the bar, you're sure to enjoy plenty of entertainment as well as a hearty meal and a good night's rest.
Day 2
9am: Walking
Explore the region's gorgeous walking tracks. From Lake Sylvan to a Routeburn Day walk, there's plenty of hikes, walks and treks to discover for a wide range of ability and fitness levels. Remember to bring water and snacks with you! 
12pm: Mrs Woolly's General Store
Time for refuelling; time for the wonderful Mrs Woolly's. Mrs Woolly's General Store is much more than a coffee shop. It is part of The Headwaters Project, an ambitious project that is aiming to create an environmentally sustainable set of accommodation and services incorporating campsites, cabins, cottages, a general store, a community classroom and meeting space, a working culinary and native planting garden, and more. As you would expect, the food at Mrs Woolly's won't disappoint and you can grab healthy chef-made takeaway foods, fresh organic groceries and unique artisan-made gifts.
1:30pm: Jetboating
No trip to Glenorchy is complete without a jet boat expereince. The braided rivers of the Rees and Dart River are the perfect setting for jet boat thrills. Take a spin with Dart River Jet and experience the splendour of the scenery as you race past jagged cliff faces falling into crystal clear water. The return trip from Glenorchy takes 3 hours and includes a "soup and coffee stop" and a short bushwalk.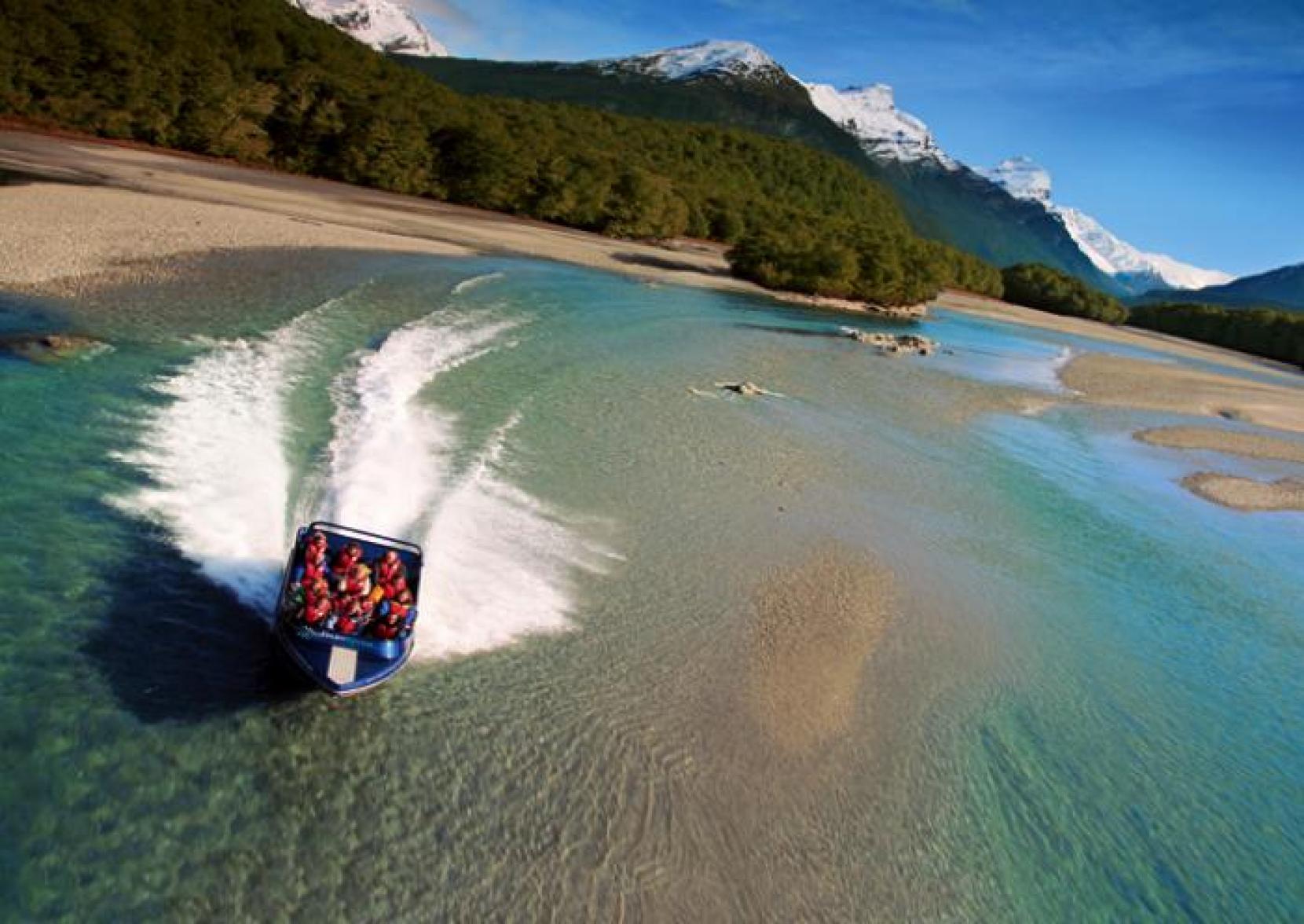 5:00pm: The Trading Post
Time for one last food and drink stop before you head out of town.
The Trading Post is your place to find locally sourced products and amazing coffee. You can also grab a souvenir from the wide variety of goods including natural cosmetics, New Zealand books, toys for little ones, delicious food and so much more.
Okay, so that's more than 24 hours in Glenorchy. But with so much on offer, it's a hard place to leave.