In case you hadn't heard, "dirt is the new snow".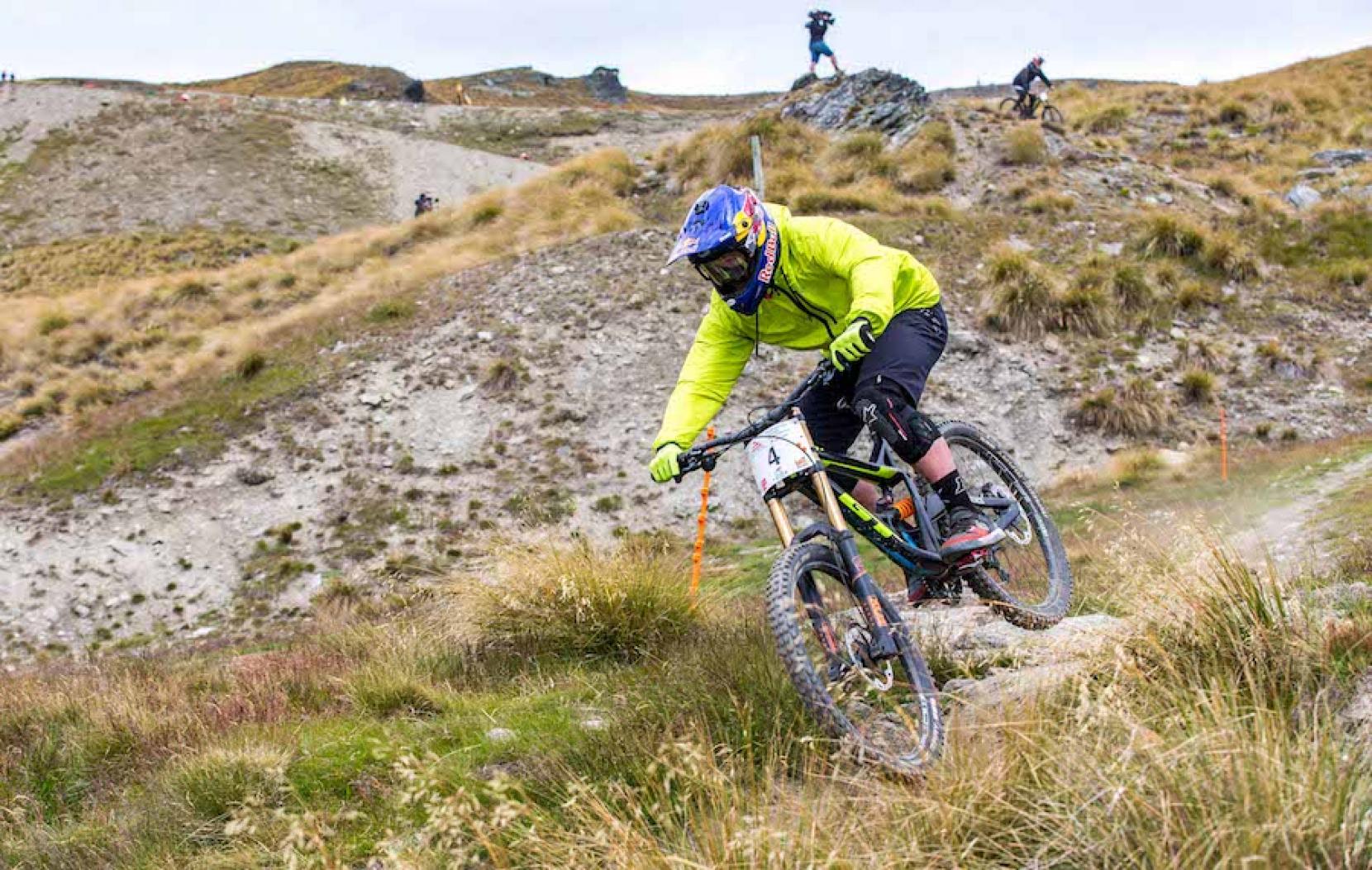 The Queenstown Mountain Bike Club coined this phrase, and it seems a fitting catchcry for all those in search of thrills and spills when the snow's gone. But if you're keen for a pedal while you're in Queenstown, and white knuckle riding is not your thing, don't worry. Whether you're a cruiser or a crash test dummy, Queenstown offers a stunning selection of trails and tracks to suit all levels of ability.
Downhill mountain biking has had somewhat of a meteoric rise in the once snow-dominated resort town of Queenstown. Not that skiing and snowboarding are losing favour; it's just that thrill seekers now have a way of getting an adrenaline hit during the warmer months. Well-groomed downhill tracks are popping up everywhere, and the extensive network of scenic trail rides is second to none. Here's the round-up of all the best two-wheeled action Queenstown has to offer.
Downhill
With a dedicated team of caretakers, downhill tracks in Queenstown are world-class. In the centre of town, you'll Skyline Gondola and the hugely popular gondola-accessed mountain bike park. Head out of town for Skippers Canyon, Coronet Peak and Wynyard Express near Fernhill.
Skyline Gondola
Chuck your bike on the gondola cable car and enjoy getting to the top of the tracks the easy way. At 450 metres above Queenstown, you'll enjoy unbeatable views and your pick of 25 world-class downhill trails winding through the Ben Lomond pine forest. There are beginner, intermediate, and expert tracks. Hammy's Track is the perfect introduction to downhill riding. And when you get to the bottom, jump on the gondola and do it all over again.
Coronet Peak
These trails make use of Coronet Peak without snow, and you'll find plenty of fast flowing, purpose built single tracks. Enjoy rides like The Peak, Rude Rock and Zoot, the original downhill track. Locals love Rude Rock, a 3km advanced downhill roller coaster with plenty of opportunities for catching some air.
Skippers Pack Track
The Skippers Pack Track is a four-kilometre single track ride down to the Shotover River. The trail is narrow and concave but not too difficult. You can also ride all the way to the old abandoned gold mining town of Skippers, a 34 km round trip.
Cruising
The best way to soak up the stunning scenery and get some exercise (without scaring yourself silly) is to take one of the many scenic bike trails around the Wakatipu Basin. The options are virtually endless, thanks to the recently established Queenstown Trails Network. This spectacular network of trails around the district offers easy, scenic riding on over 100 km's of mostly gentle tracks. Here are a couple of goodies:
Frankton Track
Start at the Queenstown Gardens and follow the gentle lakeside track to Frankton or further around the lake to Kelvin Heights. The Hilton at Kawarau Falls is the perfect halfway point for a coffee and a rest.
Arrowtown to Gibbston Valley
The Arrowtown to Gibbston River Trail takes you through Gibbston Valley, Queenstown's world-famous wine district. The 12-kilometre trail takes you over picturesque bridges along the Arrow River, through farms and paddocks, and the AJ Hackett Bungy Bridge. From here, you can take your time through the vineyards of Gibbston Valley.
Cross Country
If you're looking for something that will give you a bit of technical riding along with some sights, there are plenty of options for cross country riding around Queenstown. Check out 7 Mile, Moke Lake Circuit and Jardine's Park to Jack's Point.
Heli-Biking
The only thing better than mountain biking is mountain biking without the uphill slog. For the VIP treatment book yourself a heli-biking experience in the backcountry. There are a number of companies that offer half day and full day mountain biking experiences.
Bike Hire in Queenstown
You can pick up a basic bike for cruising the trails or a full-suspension downhill bike with all the protective gear from a number of sports stores and dedicated bike outlets in central Queenstown.
Queenstown is quickly gathering a reputation as the mountain biking capital of the Southern Hemisphere. Don't miss it.