Like a spoilt child, Queenstowners are somewhat overindulged when it comes to fabulous locations to dine. With million dollar views a-plenty, we tend to stick to familiar territory. But sometimes a little effort pays off. If you're looking for a fresh perspective on those million dollar views, then it's worth taking a short stroll down Lake Esplanade.
You'll find Queenstown's newest restaurant Bazaar Interactive Marketplace at Rydges just a few minutes walk out of town. And the killer views from the 6th floor are well worth the stroll. All spruced up and ready to go, Bazaar is patiently awaiting the arrival of the uber-stylish hotel, QT Queenstown due to open later this year. Bazaar and adjacent bar, Red's will be the signature dining experience for both hotel properties when QT Hotels brings its arty, luxurious, quirky style to town.
We arrive at Bazaar just on dusk, and before we take a table, my dining companions and I are distracted by what's behind door number two. We accidentally slip into Red's for a delicious glass of Neudorf Pinot Gris before dinner and watch the sunset send the evening sky into implausible hues of awesomeness.
But I digress, we are here to dine. And dine we shall.
Next door at Bazaar, fresh, edgy décor greets us as we enter. Modern industrial metal shelving, partitioning and exposed lighting blends with soft parquet timber floors and wooden seats. Displays of glassware and greenery add a splash of colour. And then there's the wall of windows and that view.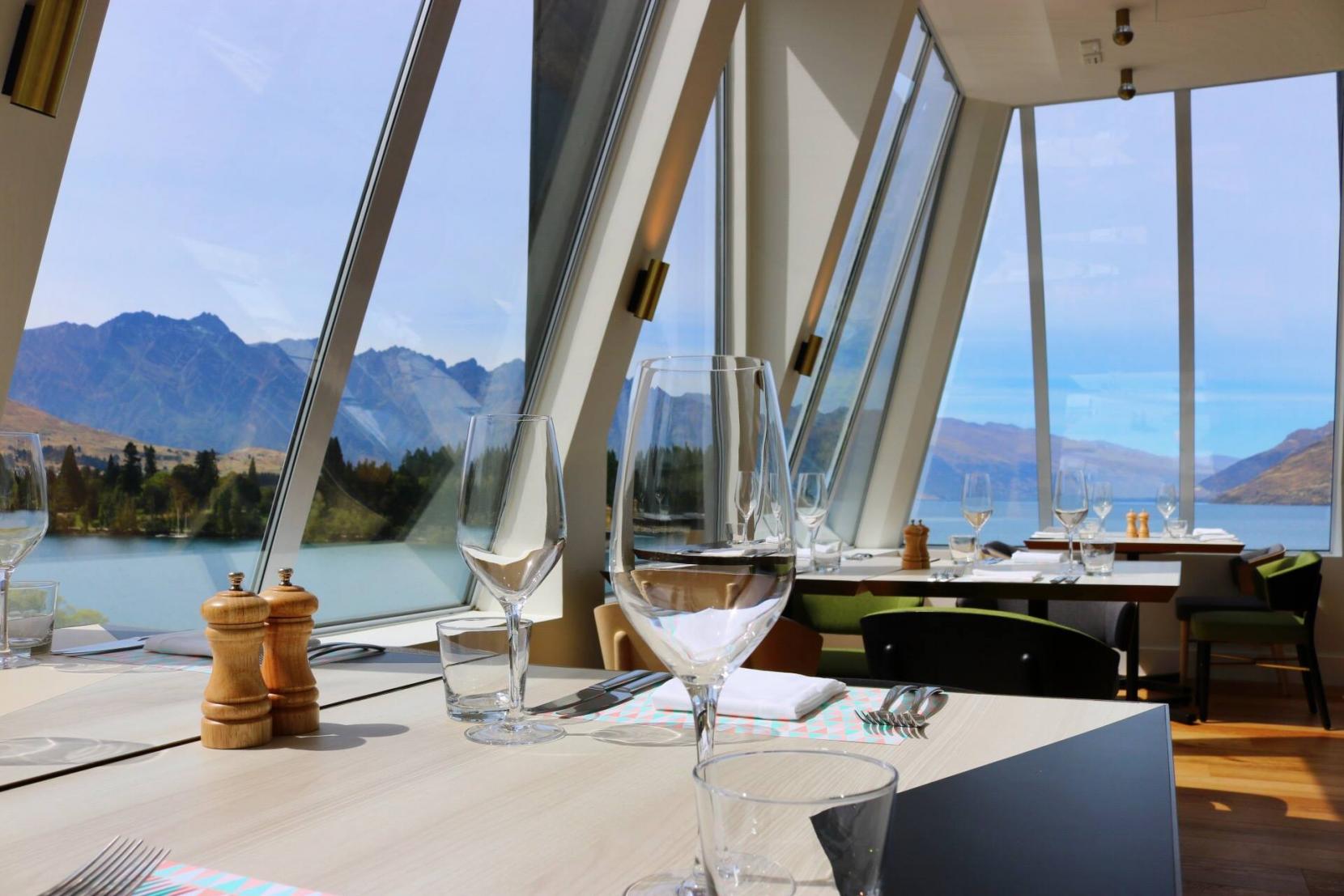 The view from Bazaar is nearly as delicious as the food
From the low lighting of the dining room, we are drawn instantly to the bustle of the open kitchen at the back of the room where the cooking team put on a show, working the wood-fired pizza oven, the grill, the wok station and the ice-laden seafood cabinet. Head chef Josh Smith-Thirkell has created an interactive marketplace where diners can inspect the produce, chat with the chef, make their selection and take it back to the table or watch their meal cooked before them.
Our waitress wastes no time when we arrive and leads us straight to the kitchen market area. She walks us through the market, explaining each dish, introducing us to the chefs and pointing out her personal favourites. The amount of food is overwhelming, and I quietly thank myself that my lunch today was a small one. It is not by accident that we are led past the dessert cabinet first and given a stern reminder to leave room for sweets.
Bazaar seafood station, chock-a-block!
"Try everything," our waitress says with a smile as she leaves us at our table. Now there's a challenge. One of my dining companions heads straight to the seafood section where plump, bright-orange Queensland prawns sit amongst icy mussels and cockles. My other dining companion orders a serve of freshly made dumplings from the wok station. I can't resist the prawns but also can't resist the table of cheese and charcuterie so decide to throw caution to the wind and pile blue cheese, dolmades and prosciutto on top of my prawns. Why not?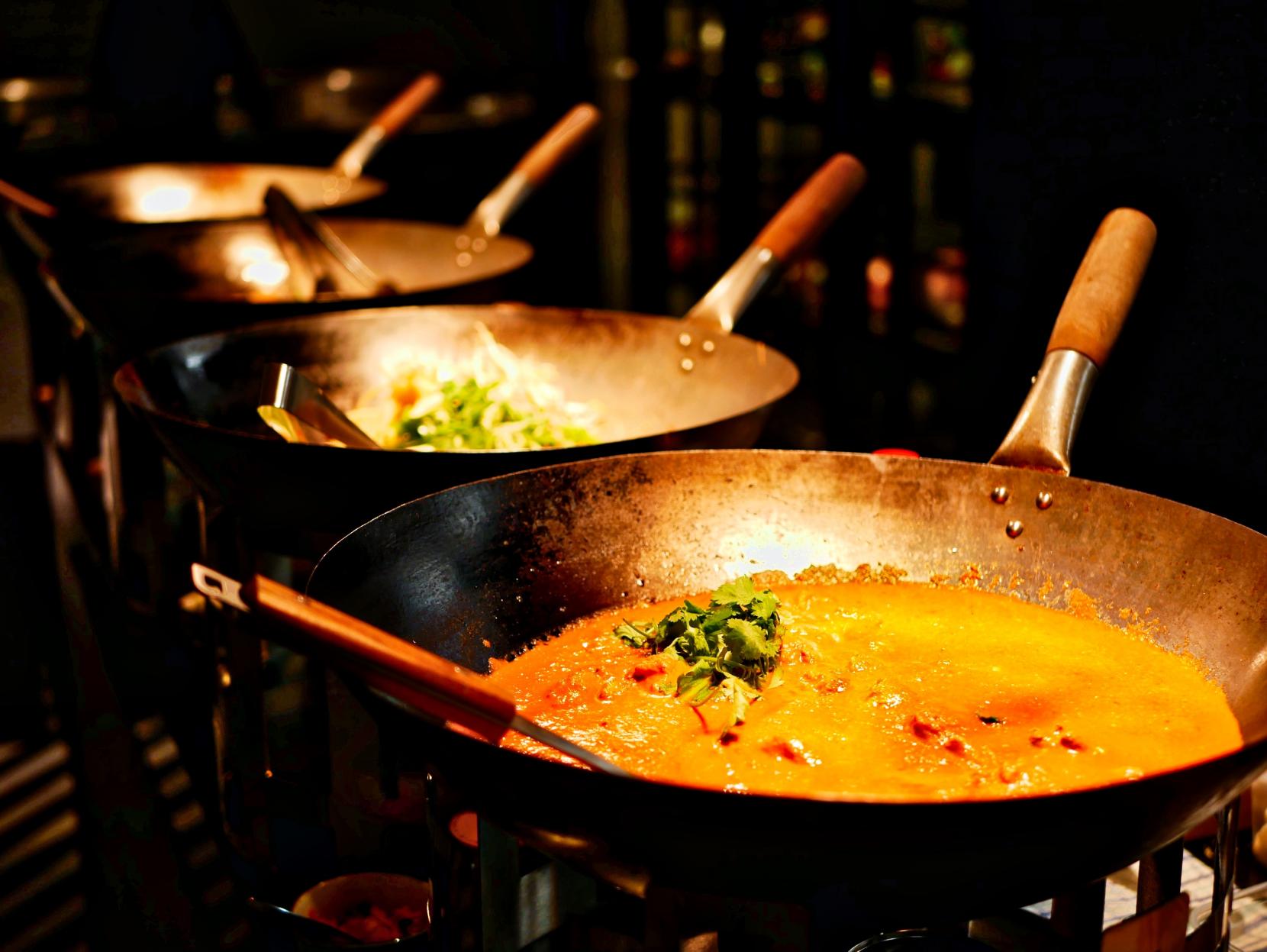 Bazaar Asian food station
The flavours of our starters are fresh and hearty, and it's a good indication of what's to come. For round two, I visit Nico at the wok station who talks me through his four freshly cooked dishes bubbling away. I go for a Tom Kha Gai and briefly consider the curry as well, but out of respect for the dessert cabinet, I hold back. Back at the table, the three of us freestyle our way through the unlikely combination of Thai soup, dumplings, sautéed brussels sprouts, perfectly cooked braised beef cheeks and a winning pea and feta salad. The organic side salads and exceptional beef cheeks reflect the restaurant's commitment to high-quality produce. But it's not over yet. There's steak to be had.
Tonight, Chef Josh is on the grill, serving up 3-week-aged sirloin steak. He shows off the impressive slab on his chopping board and checks how I'd like it cooked. There's something delightful about the personal attention that is given to each diner. Not long after, our steaks arrive. Served on a light potato puree, the steak is cooked to perfection and is not so big that I regret the decision to go for round three.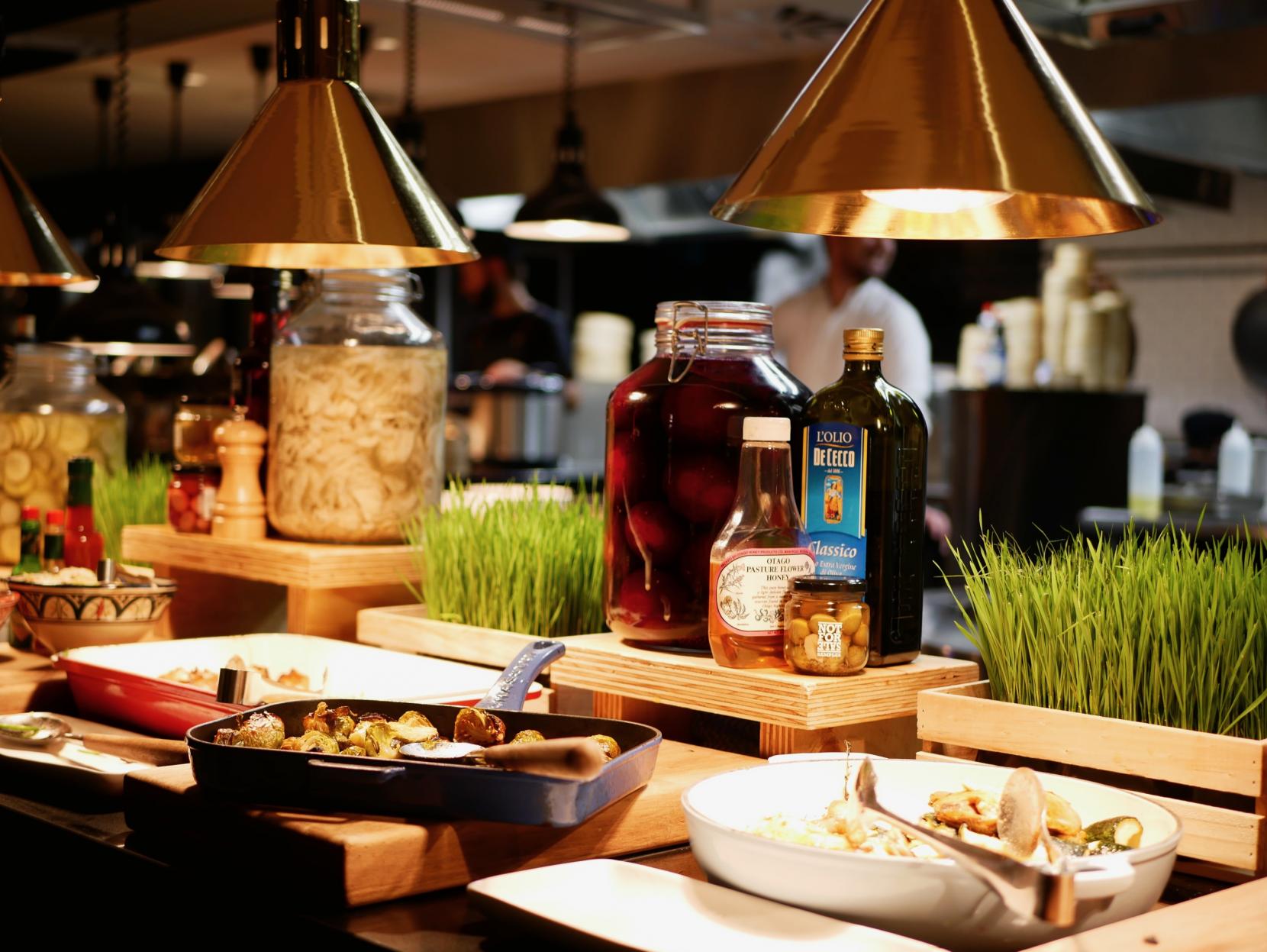 We order another round of drinks and let things soak in. There is no rush, and we enjoy the ambience, the view and comparing notes on each dish. The drinks menu at Bazaar features local breweries like Altitude Brewing and Wanaka Beerworks as well as glamorous cocktails and a generous offering of Central Otago wines alongside French and other domestic varietals.
And now it's time to tackle the dessert cabinet. Served as bite-sized morsels, I give myself permission to sample more than one. The dessert changes nightly and tonight I spot brandy baskets, passionfruit curd cups, mini cheesecakes and mint-choc mousse to name just a few. If you're a traditionalist, you can always hit the soft-serve machine. One of my dining party declined dessert and opted for a bowl of stir-fry vegetables to finish the meal instead. There are no rules here, people.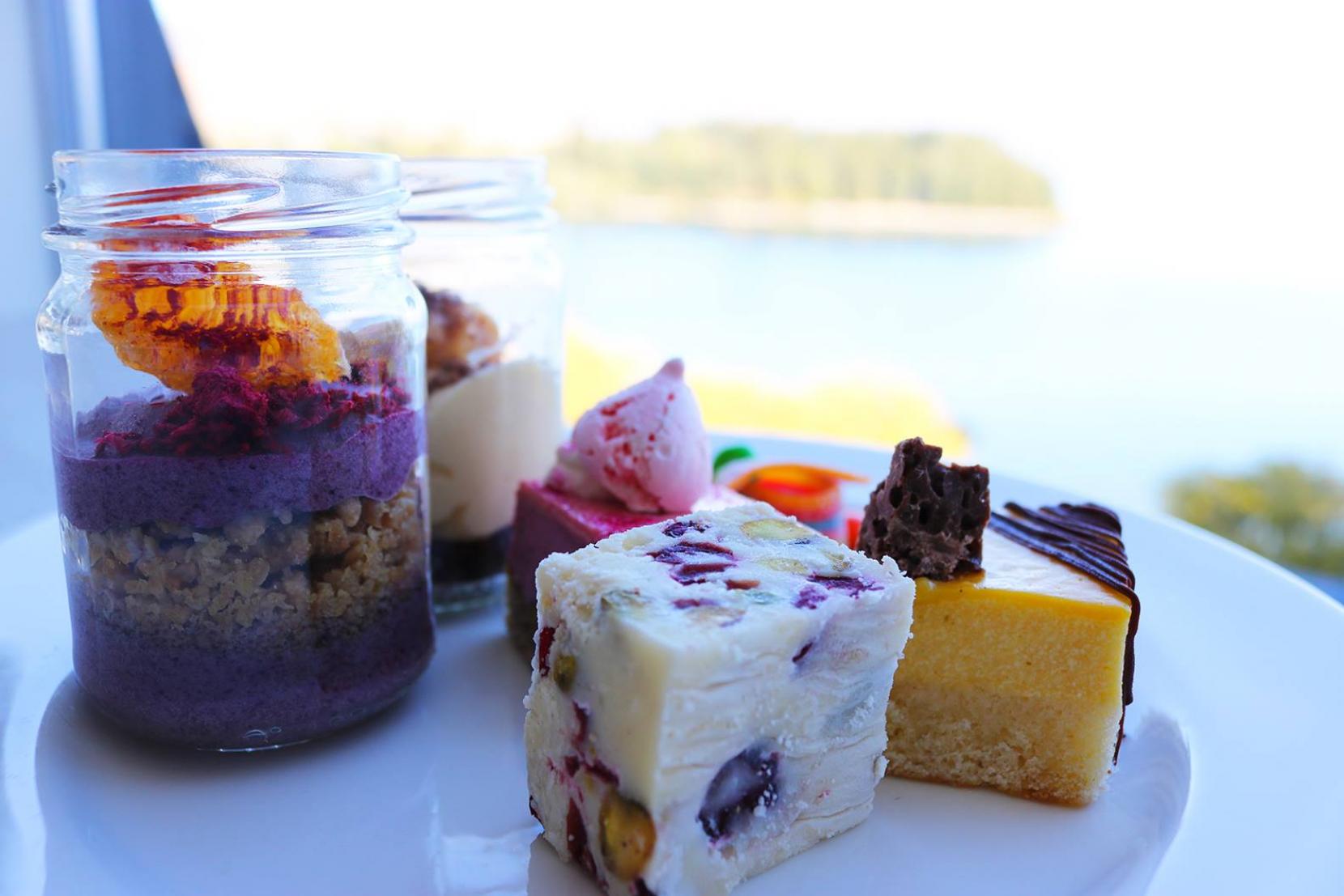 Bazaar desserts are to die for
By the end of the night, we know all of the chefs by first name and know the favourite dish of each of the wait staff. The staff are clearly enthusiastic about the concept and as word gets out, and QT Queenstown comes online, expect this place to be pumping.
THE SHORTCUT
WHERE:
Bazaar
38-54 Lake Esplanade
STYLE:
Choose your own adventure interactive marketplace
VIBE:
Impressive drinks menu and overly generous dining offering. All backed up by the best views in town. The perfect place to meet for drinks on sunset or impress your visitors with weather-safe lakeside dining.
THE VERDICT:
Try it now before everybody hears about it! As far as value and views go, it doesn't get much better in Queenstown.
PRICE:
$79 per person